Hej bloggen!
Nu ska jag berätta för er om min helg. En helg som var så otroligt efterlängtad. Som jag i två månader drömt mig iväg till när det nätterna varit som tuffast och min gravida kropp gjort ont av trötthet. Nämligen vår barnfria tjejhelg!! När Ines fyllde 30 så sa vi bara "boka in dessa datum, vi ska iväg på spa!" och i fredags var det äntligen dags.
Det var min första hela helg utan Nikola, jag har bara sovit borta enstaka nätter några få gånger och de gångerna har jag tyckt att det varit jobbigt att lämna honom. Men denna helg? Haha med risk för att få kommentarer om att jag är en dålig morsa men jag ba "hejdåååå älskling!!!" och flydde hemmet snabbare än snabbast. :-))) (sen saknade jag honom givetvis hela helgen och ringde Aleks på FaceTime flera gånger för att få se honom, men det fattar väl alla)
//I'm going to tell you about my weekend. A weekend that I've been so excited about. For two months I have dreamed about this weekend, when the nights have been tough and my tired pregnant body has been hurting. Our girls-weekend without kids! When Ines turned 30, we told her to "book this dates, we're going to a spa!" and this Friday, it was time to go. It was my first whole weekend without Nikola, I've only slept away for one night tops, and those times it's been really hard for me to leave him. But this weekend? Haha, with the risk of getting comments about being a bad mom, I was like "goooodbyye honey!!!" and fled our home as fast as I could. :-))) (of course I missed him during the whole weekend and I called Aleks on FaceTime a couple of times just to see him, but I suppose everyone gets that)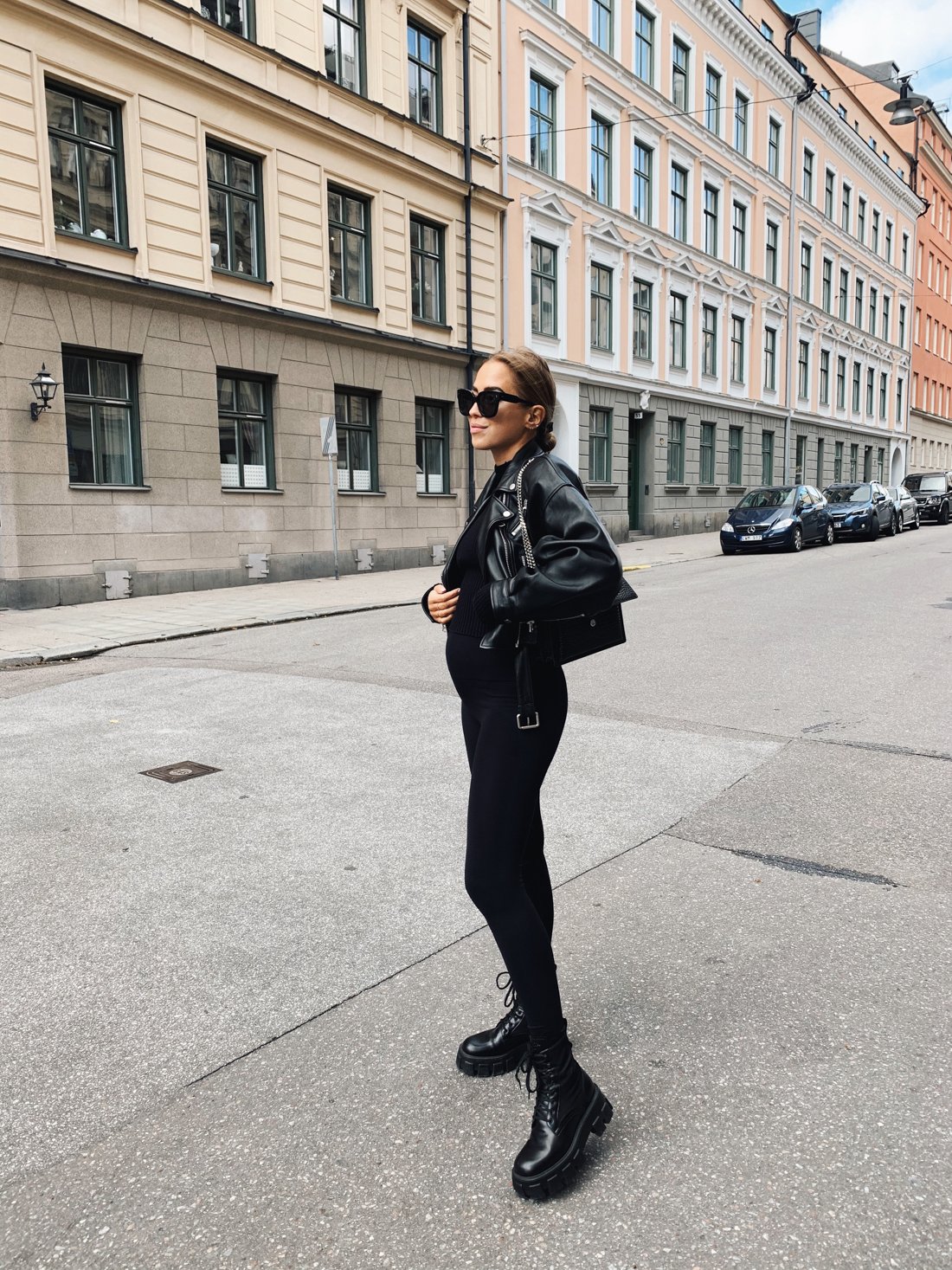 Prada boots – Ducie London biker jacket – Boob design maternity leggings – Zara knit – Chimi sunglasses – YSL bag
Så i fredags vid ett lämnade jag hemmet i en extremt färgglad outfit (helsvart på hösten funkar ju alltid!) och hämtade upp tjejerna. Vi körde ut till Yasuragi där vi först käkade ramen till lunch medan vi väntade på vårt rum och sedan överraskade vi Ines med deras finaste svit (badrummet är helt magiskt!! med bastu och varm källa, och sen en jacuzzi på terrassen).
Sen bytte vi om till våra baddräkter och japanska yukatas, hällde upp godis och chips och började spahänget i vårt badrum. När vi tröttnade på att hänga där så gick vi ner till det stora japanska badet, där råder det dock både foto- & mobilförbud så ni får tyvärr inga bilder därifrån. Några timmar innan middagen hade vi köpt en massagebehandling till Ines så medan hon knallade iväg på den låg jag och Dani på en soffa, drack te & åt frukt och slumrade till.
//This Friday at 1pm I left home in an extremely colorful outfit (all black always works during fall!) and picked up the girls. We drove to Yasuragi where we had some ramen for lunch while waiting for our room to be ready, and then we surprised Ines with their finest suite (the bathroom is magical!! with a sauna, hot spring and a jacuzzi on the terrace).
Then we changed to swimwear and Japanese yukatas, got snacks and started to chill out in our bathroom spa. When we got tired of it, we went down to the big Japanese spa, but it's forbidden to take photos and film there, so unfortunately I don't have any pictures from there. A couple of hours before dinner, we had bought a massage treatment for Ines, so when she went to her appointment, Dani and I were laying on a couch, had some tea and fruit and took a nap.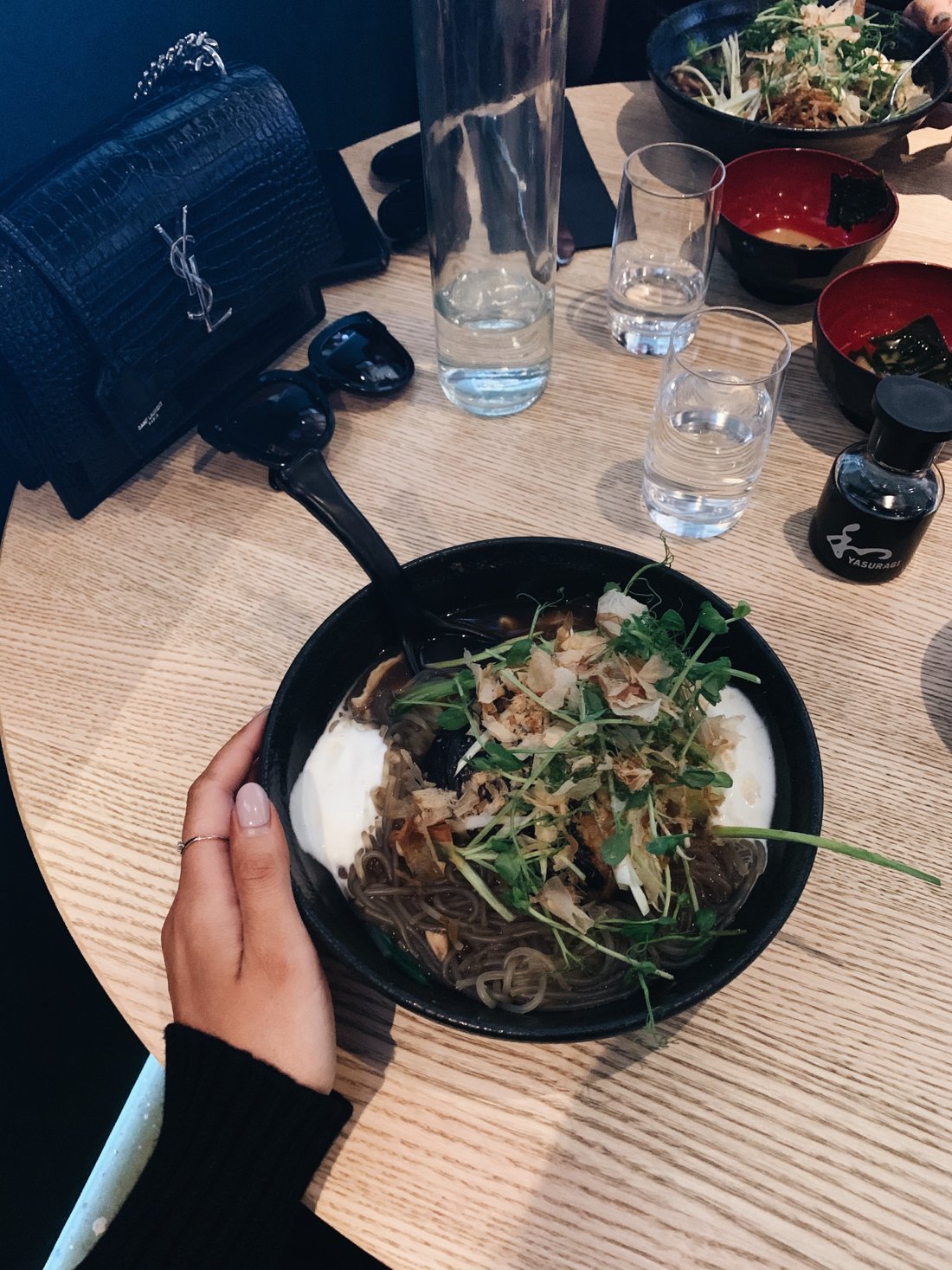 Ramen for lunch
Me and the belly! 20 weeks done now and we enter week 21!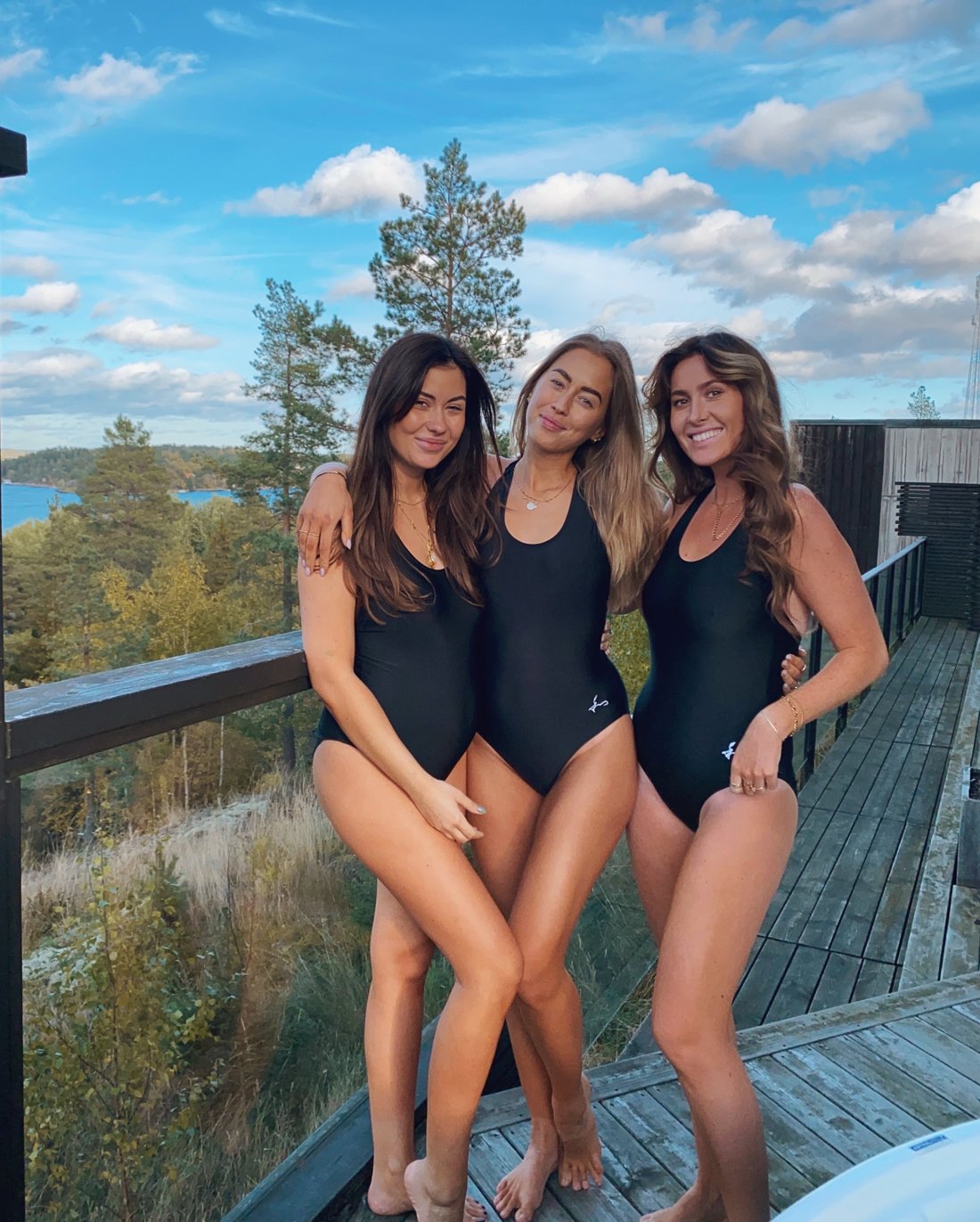 Three excited moms and some excited toes as well
Resten av kvällen bestod av en helt fantastisk middag, mojitos (alkoholfria för mig och Dani som också väntar barn!<3) och efterrätt och sedan låg vi i sängen och snackade skit och skrattade så att vi fick ont i magen.
Jag vaknade upp vid åtta på morgonen, helt utvilad efter en riktigt bra natt. Bästa natten sedan innan Nikola kom så jag kände mig som en helt ny människa. Vi gick ner och käkade mackor och pannkakor till frukost och sedan hängde vi ute i vår varma jacuzzi ett tag! Vid 12 hade vi bokat in oss allihopa på varsin behandling, jag och Dani valde gravidmassage och Ines som fick massage kvällen innan fick nu en ansiktsbehandling. Min massage var så otroligt skön. Blev seriöst tårögd när hon började massera mig för att jag för första gången på länge kände mig helt avslappnad.
//The rest of the night we had an amazing dinner, alcohol free mojitos for me and Dani who's also expecting! <3 and dessert. Then we laid in bed, talked and laughed until we couldn't breathe.
I woke up at 8am, and felt so energized after a good night. The best night ever since before Nikola was born, so I felt like a completely new human being. We went downstairs and had pancakes and some bread for breakfast, then we spent some more time in our jacuzzi! At 12 o'clock, we all had booked treatments. Dani and I chose pregnant massage and Ines who got a massage the night before did a facial. My massage was lovely. I seriously got tears in my eyes when she started the massage because it was the first time in a really long time I felt completely relaxed.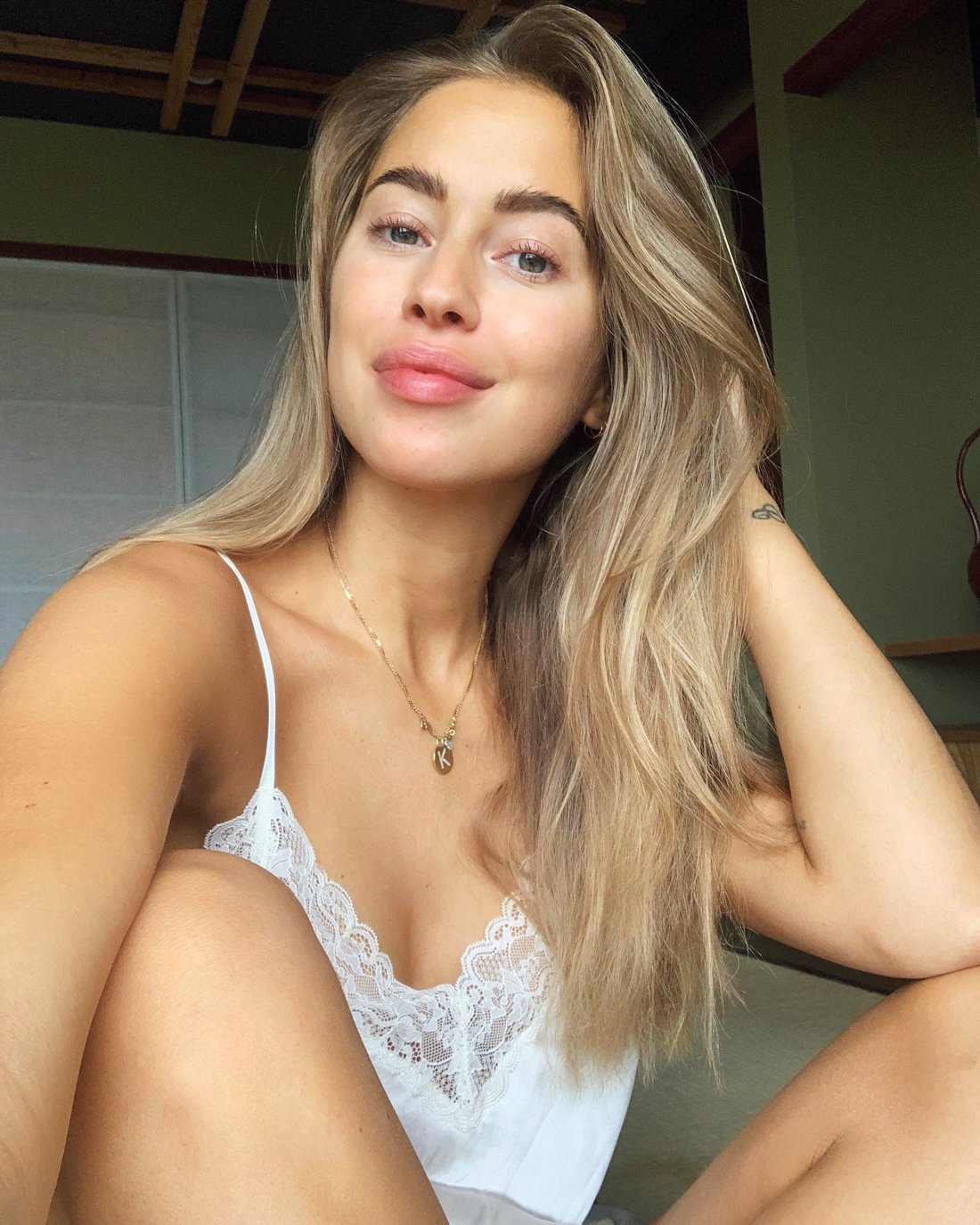 Morning selfie – night gown from Intimissimi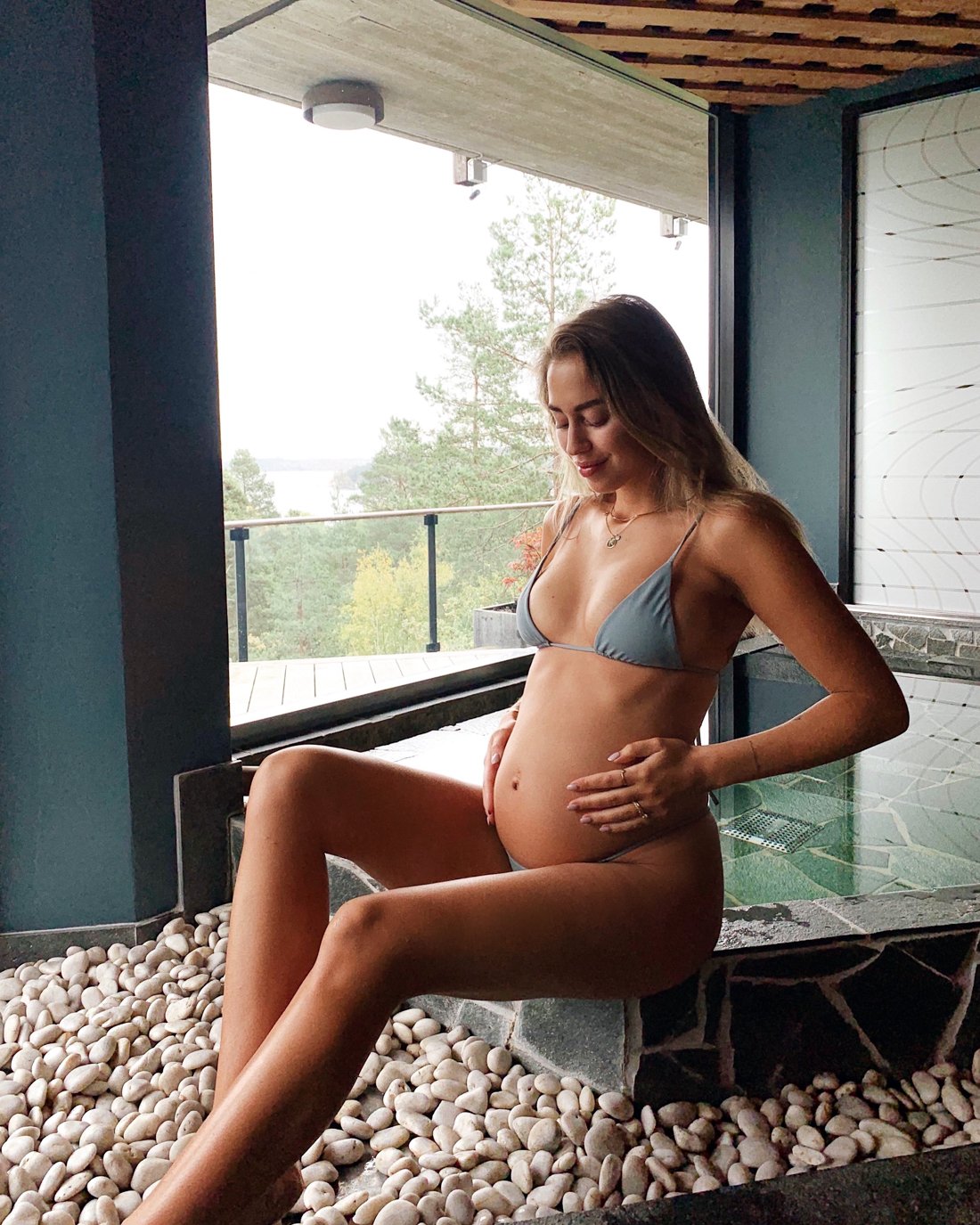 Took a photo with the bump for my instagram, in our bathroom! Bikini from Coco & Nuts
Efter våra behandlingar hängde vi ytterligare några timmar i det stora japanska badet. Doppade oss i deras svinkalla källa, skrubbade oss med salt i deras ångbastu och hängde utomhus i de varma källorna.
Vid fyratiden på eftermiddagen duschade vi och klädde på oss. Det var dags att lämna Yasuragi och åka tillbaka till stan! Med ett snabbt litet lunchstopp på Mc Donalds hehe. Äter verkligen aldrig på donken längre men det satt fan fint! En kycklingburgare med pommes, cheddardipp & cola, några friterade chili cheese och sen en mc flurry daim på det. MMMMMMUMS. Väl tillbaka i stan parkerade vi min bil och så gick vi ner till Nobis Hotel där vi hade bokat ett rum för natten. Äääään var helgen inte slut!
Vi chillade på rummet och sedan gjorde vi oss i ordning och gick ner och käkade på NOI. Glömde tyvärr ta bild på maten men vi alla käkade grillad biff med sallad, pommes och bea och det var riktigt smarrigt! Satan vad med gott vi åt denna helg. Älskar sånna helger. Klockan var bara 22 efter middagen men vi var redan trötta allihopa så vi gick upp på rummet igen, käkade godis och tittade på Pretty Woman innan vi alla däckade.
//After our treatments, we spent a few more hours in the big Japanese spa. We took a dip in their insanely cold spring, did a body scrub with salt in their steam room and chilled out by the hot springs outside.
At 4pm we took a shower and got dressed. It was time to leave Yasuragi and go back to the city! With a quick lunch stop at McDonald's hehe. I never eat there anymore, but it was actually good! A chicken burger with fries, cheddar dip and coke, some chili cheese and a mc flurry daim with that. YUMMMMY. When we got back to the city, we parked my car and took a walk down to Nobis Hotel where we checked in. The weekend wasn't over quite yeeeeet!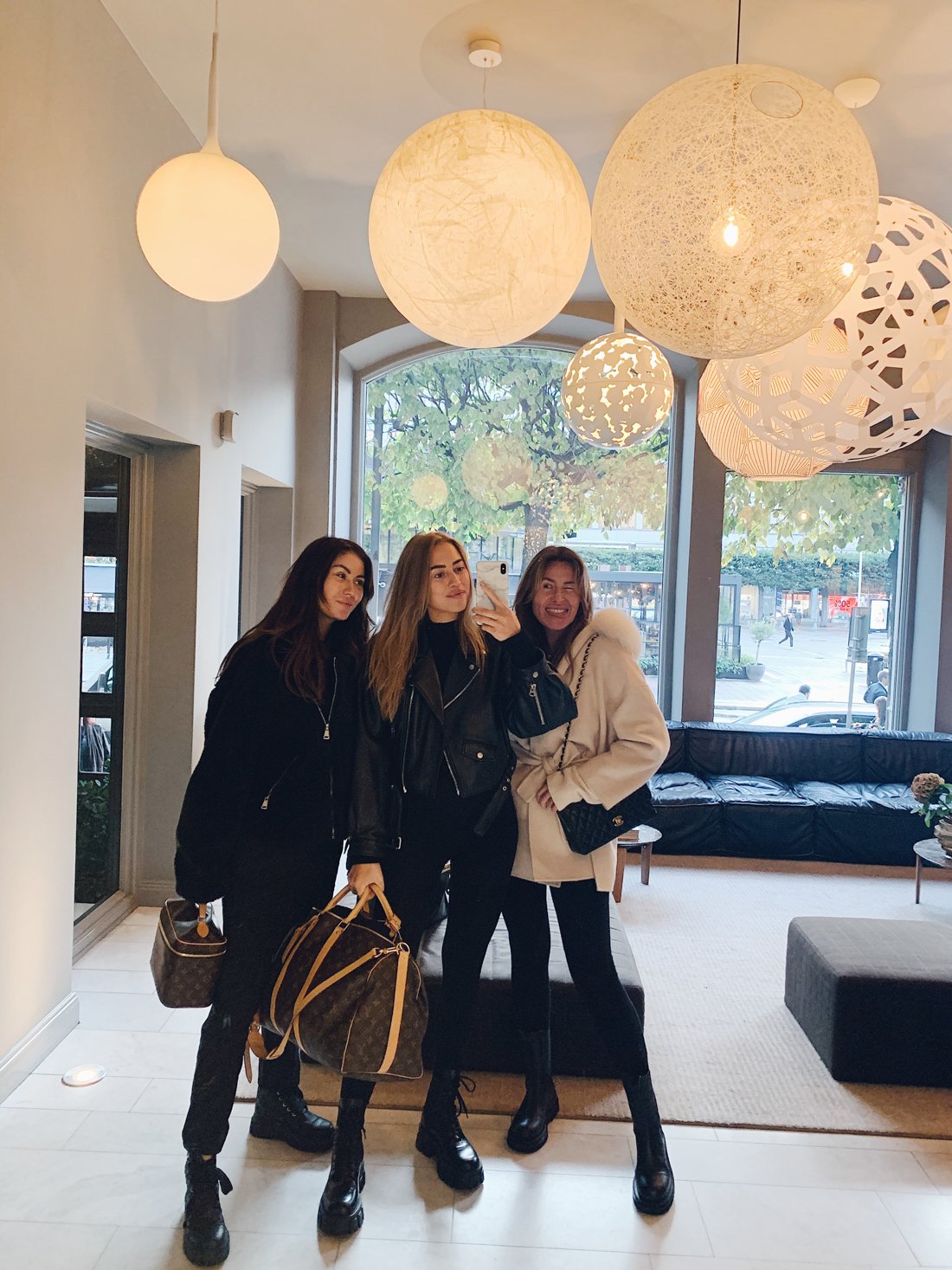 Checking into Nobis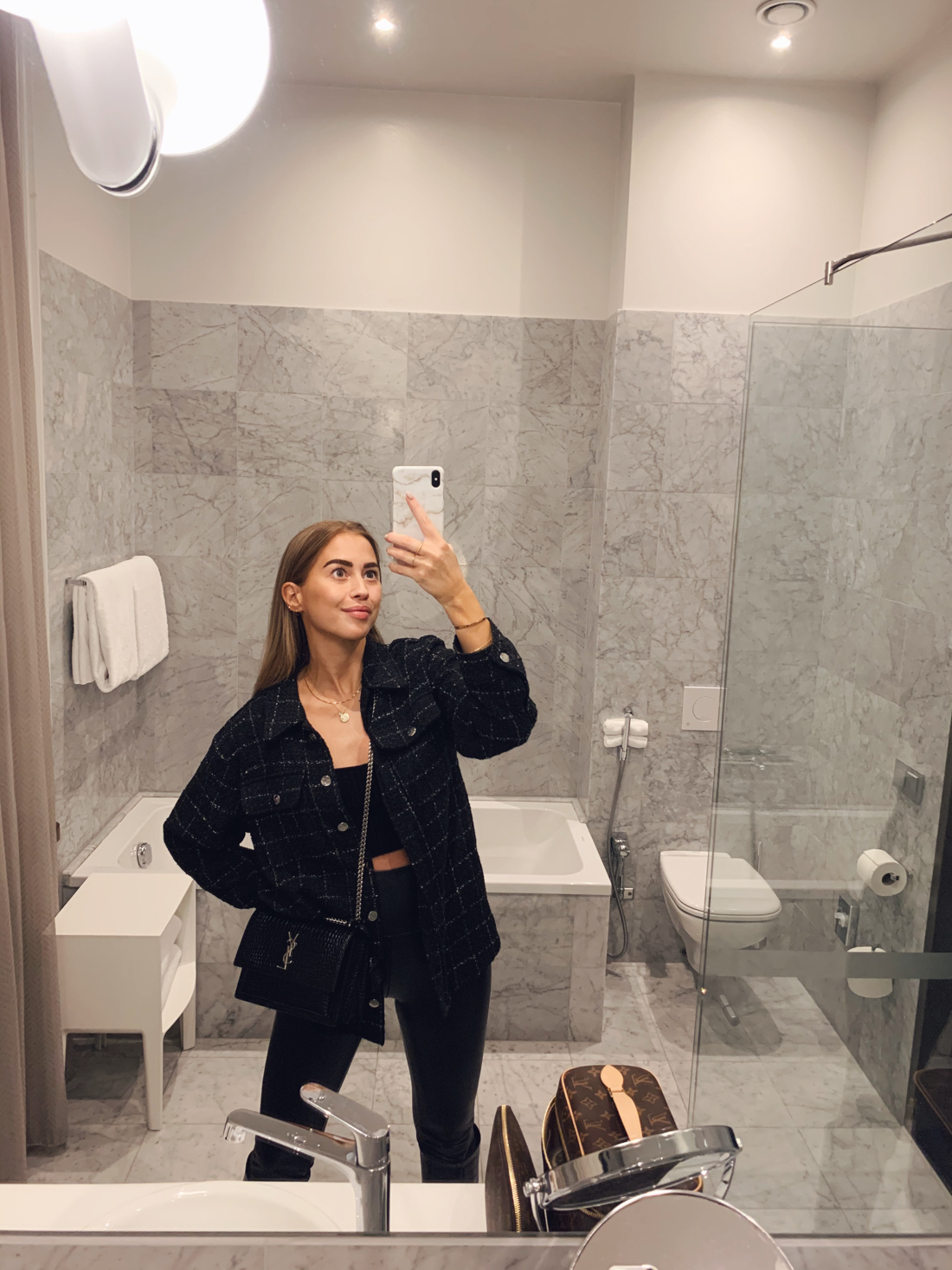 Dinner ready in shirt from Veronica Virta and tights from Sanne Alexandra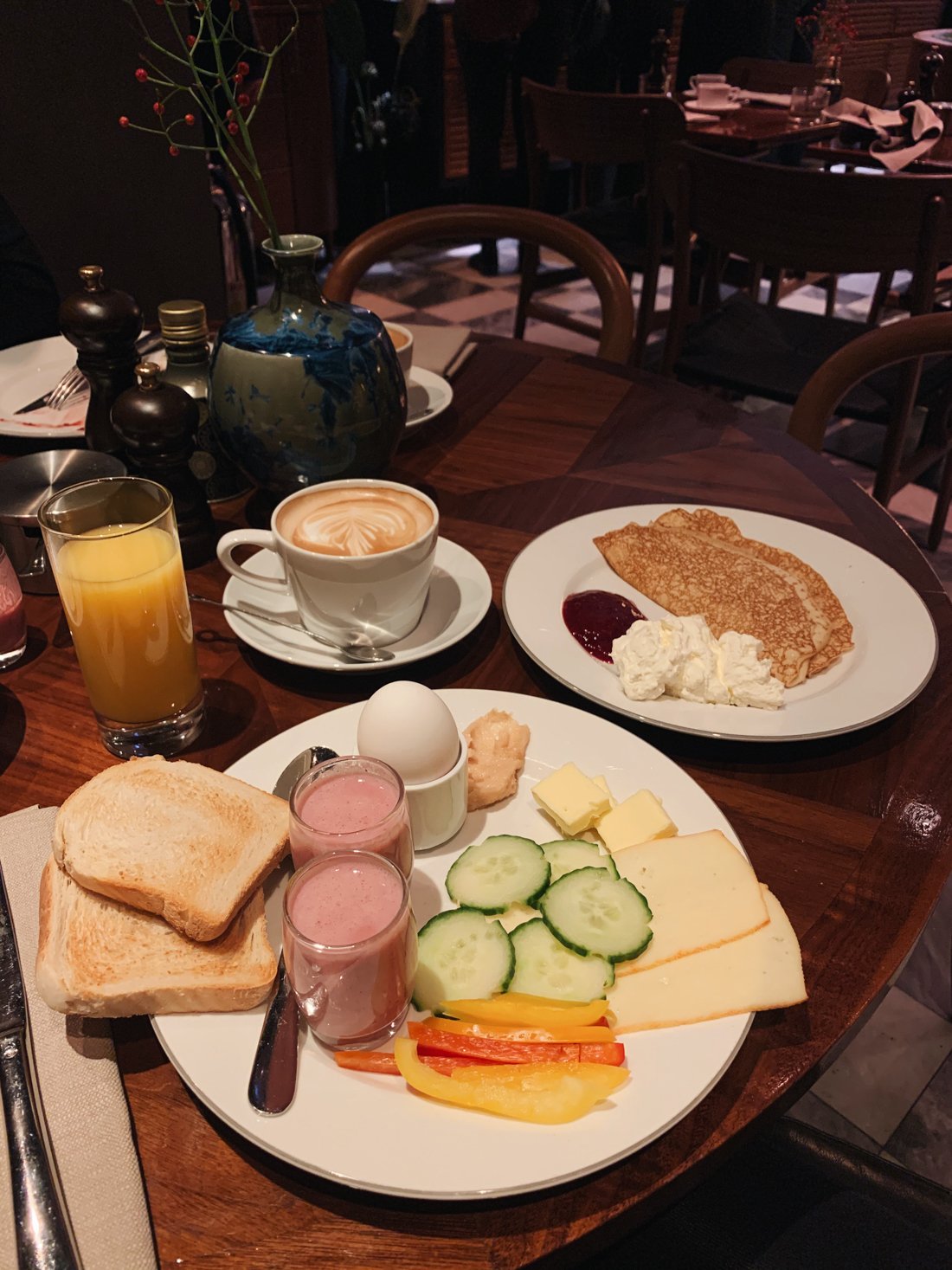 My Sunday breakfast
På morgonen var det lite svårt att kliva upp för vi visste att nu var det slut på vila haha! Vi alla längtade dock hem till våra små kottar så det blev bara en snabbfrulle (älskar Nobis frukost!) innan vi checkade ut och rörde oss hemåt.
Nikola sov sin nap när jag kom hem och Aleks såg helt förstörd ut efter helgen haha. Det hade varit två bråkiga nätter med lillen, men annars hade allt gått toppen. När Nikola vaknade så busade vi och sedan gick vi ut på promenad och även en sväng till lekplatsen. På eftermiddagen/kvällen var Aleks iväg så jag och Nikola tog igen lite tid ihop, vi badade och läste böcker innan jag nattade honom. Precis innan han somnar brukar han alltid slänga över sin arm runt min hals och dra mitt huvud till sitt och igår var det ett extra hårt grepp. Tror nog att han hade saknat mig han med. <3
Tack tjejer för denna välbehövliga helg! Detta gör vi om snarast. Våra män ba NOOOOO haha….. Nej men jag vill iallafall få till en sån här helg en gång till innan bebisen kommer, för med två små så kommer det såklart bli mycket svårare att få till egentid!
//In the morning, it was hard to get out of bed because we knew that would be no more resting haha! But of course we  missed our babies at home, so we had breakfast really fast (I love the breakfast at Nobis!) before we checked out and went home.
When I got home Nikola was taking his nap and Aleks was a trainwreck after the weekend haha. The boys had two rough nights, but other than that everything went fine. When Nikola woke up, we played inside and then we took a walk to the playground. In the afternoon/night Aleks was away from home, so Nikola and I had some alone time. We took a bath and read books before I put him to sleep. Right before he's about to fall asleep, he always puts his arm around my neck and drags my head towards his, and yesterday, he held on extra tight. I think he'd missed me too <3 
Thank you ladies for this weekend, I really needed it! We gotta do this again asap. Our men be like NOOOO haha…Jokes aside, I really wanna get one more weekend like this before the baby arrives. Because with two babies at home, it will definitely be harder to get alone time!