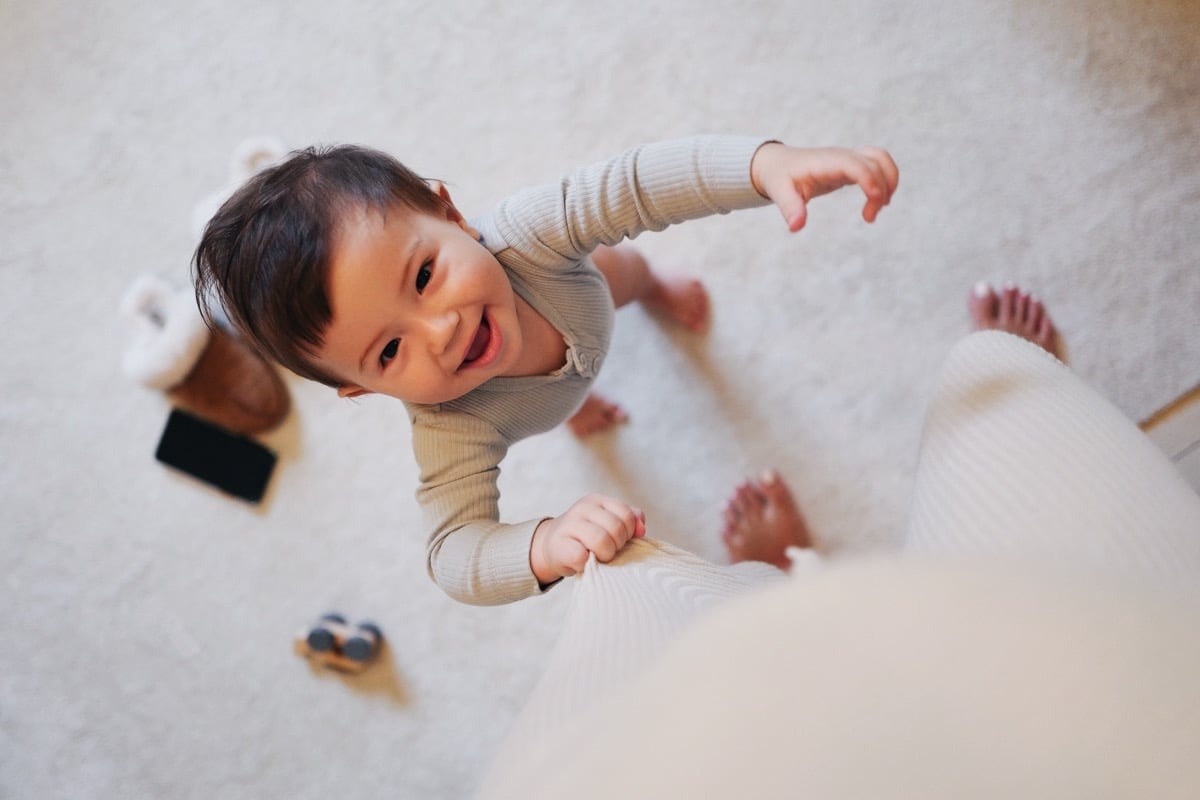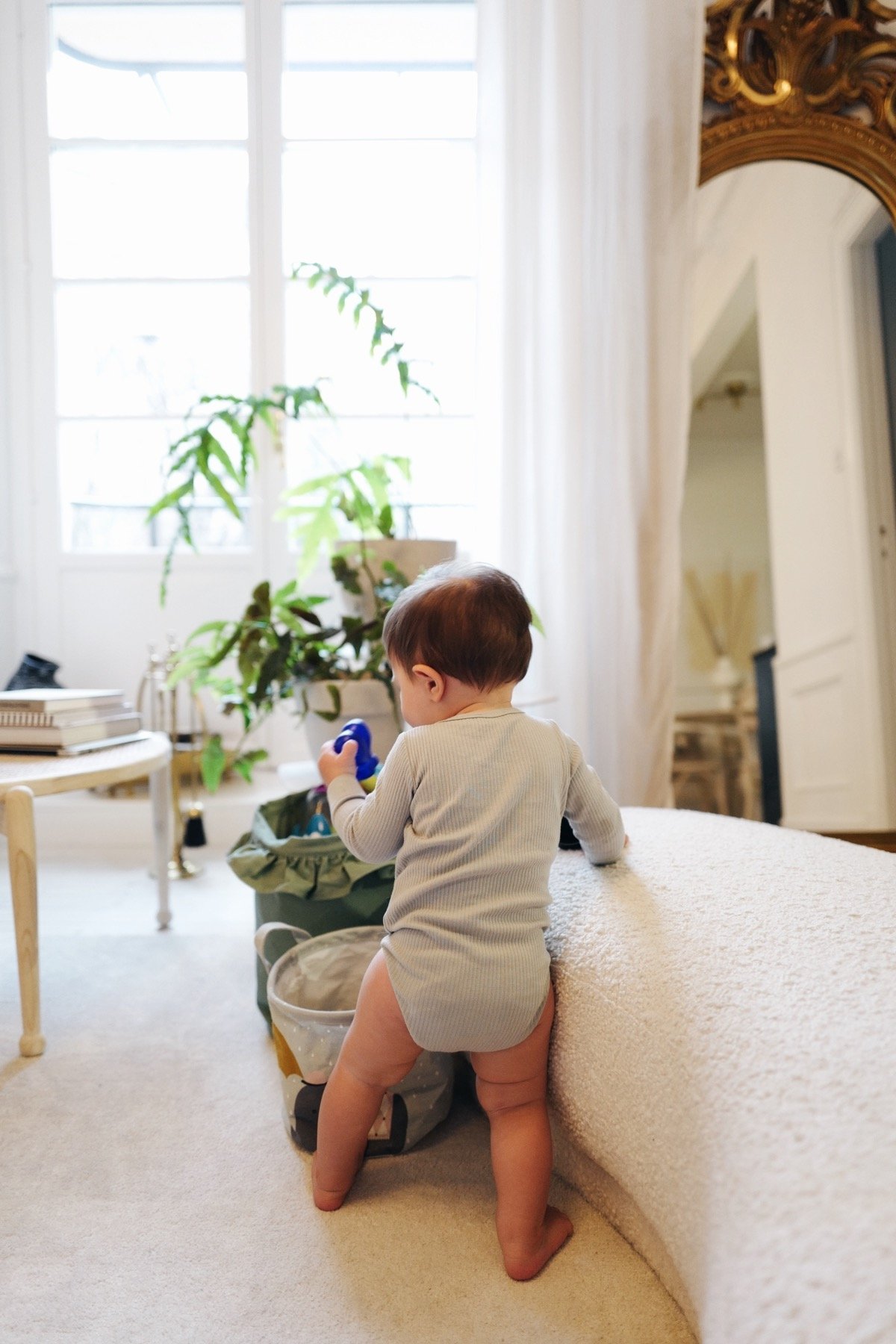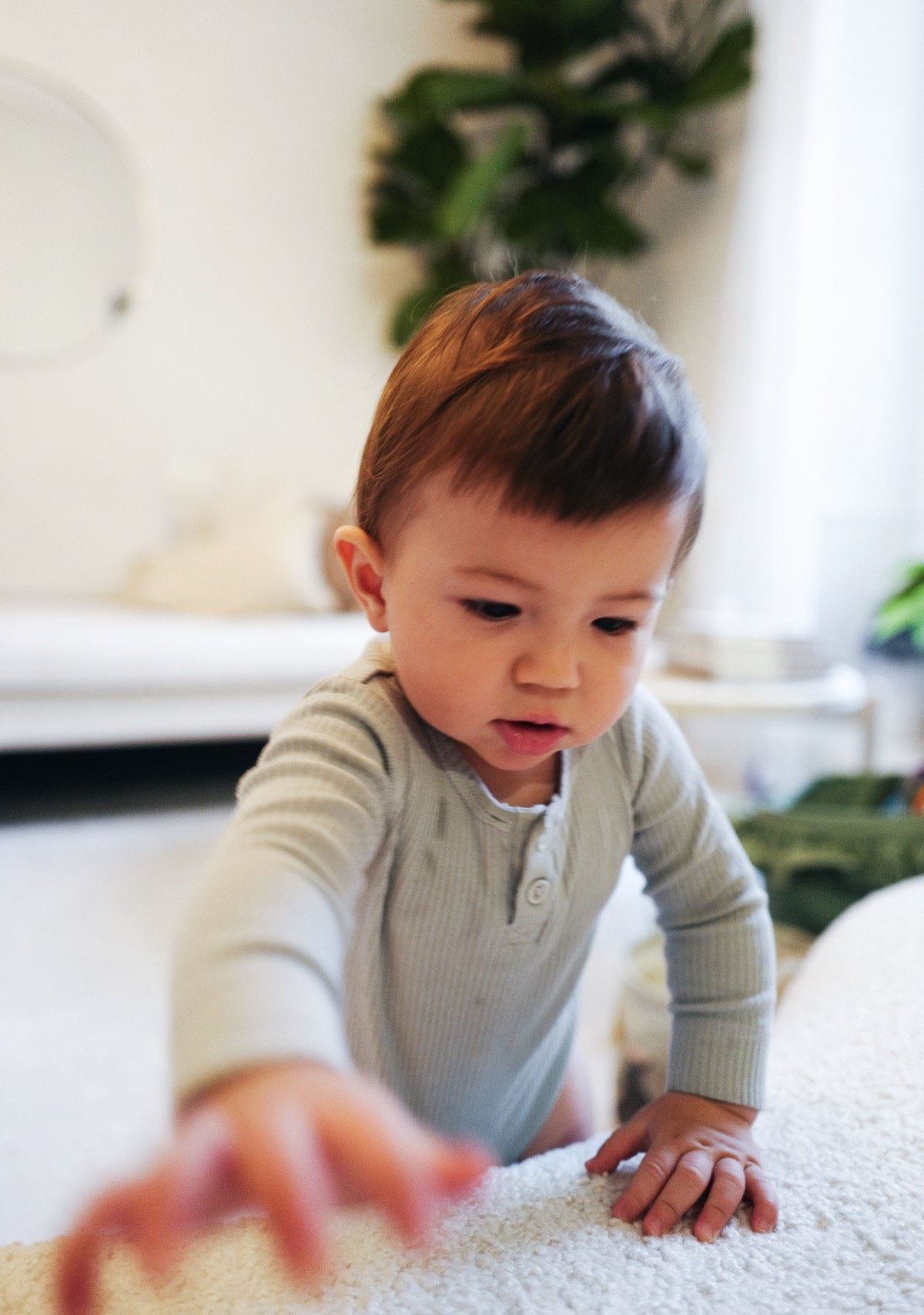 Weight: 10,5 kg
Height: Not sure but would guess 79-80 cm since he was 77 last month
Nu är vår kille 9 månader!! Det känns som att det har hänt så mycket med hans utveckling den senaste månaden. Typ som att vi åkte till Maldiverna med en bebis och kom hem med ett litet barn haha. Han lärde sig så mycket där borta! Han sa bland annat sitt första ord – MAMMA. <3
Nikolas 9 mån update blir en q/a som jag drog igång på min insta story! Har samlat de frågorna som ställdes flest gånger. :-)
Hur ser hans mat- & sömnschema ut?
Typ 80% av era frågor var kring detta! Såhär ser en dag ut (mycket beror på när han vaknar så skriver "mellan"):

Ca 5.00: Vaknar oftast och vill ha mat. Ammar ena bröstet och vi somnar snabbt om.
Mellan 6-7: GOD MORGON mamma och pappa! Nu vill jag upp! Aleks kliver upp med honom.
7.30: Aleks ger frukost. En portion gröt (han gillar Sempers med smak av päron bäst), en liten macka och lite frukt (kan vara några bitar banan, bär, eller fruktklämmis).
Mellan 9-10: Dags för första sovstunden och jag ammar andra bröstet precis innan. För det mesta sover han 2 naps men ibland blir det 3, beror helt på hur långa vilostunderna är. Ligger jag bredvid honom i sängen här, eller om vi är ute och rullar i vagnen, så kan han sova ca 1,5-2 timmar på förmiddagen. I detta schema utgår jag från 2 iallafall.
Mellan 12-13: Lunch! Vad han äter här beror helt på humör. Jag försöker nästan alltid erbjuda honom något hemlagat, som t.ex. omelett/scrambled (ägg, lök, tomat, ost, persilja) med avokado på sidan, bananpankakor (gjorda på ägg och banan) med bär, eller gårkvällens rester av typ fisk, potatis och broccoli. Ger det i bitar så han kan plocka själv också. Men ibland duger inget annat än måltid-klämmis från Alex & Phil, och oftast får jag komplettera med en mellis-klämmis (frukt och grönsaker) också.
Ca 15.30: Här får han oftast en flaska ersättning (ibland behövs det inte för att han ätit något mellanmål efter lunchen) och sen är det dags för andra vilostunden! Här är vi alltid ute och promenerar och han somnar i vagnen och sover ca 40 min.
Ca 17.30: Middag! Precis som med lunchen så beror det på vad han vill ha. Bitar av "vanlig mat" (har vi lagat mat till oss så erbjuder vi samma som vi äter, han älskar t.ex. pasta och köttfärssås, och lax och potatis är en annan stor favorit) eller om han vill ha färdig barnmat. Oavsett så ser vi till att koka ärtor eller broccoli också så att han kan sitta och plocka också.
Ca 19.00: Läggdags! Har han ätit en tidig middag (ibland blir det vid 17) så kanske han får lite gröt innan läggdags också. I sängen blir det en flaska ersättning/välling (kör halva halva, ca 280 ml totalt men dricker sällan upp allt) innan han somnar.
Hur natten ser ut är väldigt olika. Vi har haft ett par riktigt bra nätter nu sedan vi sänkte temperaturen i sovrummet och ställde in en luftfuktare, men det är för tidigt att ropa hej än. Vi matar iallafall inte honom mer än en gång under natten, det brukar bli lite ersättning vid 3-tiden!
Vilka ord kan han säga?
Typ bara "mamma". Ibland låter det som att han säger "nej", "titta" och "tata" (pappa på serbiska) men mamma är det enda han säger när man ber honom säga det. Han vet såklart inte vad det betyder utan han härmar bara det jag säger. :-)
Vad har han för storlek på kläder och skor?
Han har storlek 20 i skor (använder dock inte skor än) och storlek 80 i kläder men kan fortfarande ha de flesta av sina plagg i 74. Känns som att han inte växer lika snabbt nu för kläderna behöver inte bytas ut lika ofta längre och det är skönt.
Hur är hans personlighet?
Vi har en väldigt aktiv och busig liten kille här, vilket kan vara både kul och påfrestande (speciellt när man i corona-tider mest är hemma, är helt slut efter en dag med honom). Han är konstant igång och han sitter väldigt sällan still. Hoppar, klättrar, kryper runt, går runt möblerna, klappar händerna, skriker och skrattar. Och jag skrattar jag med, för han kan göra så tokiga grejer ibland. Han har blivit lite mer mammig på sistone (misstänker en liten separationsfas) och tröstas lättast hos mig om han slår sig eller vaknar på natten, men är annars nöjd hos andra också. Han är väldigt social och nyfiken på andra människor och blir otroligt glad när någon ger honom uppmärksamhet. Charmar alltid alla. <3 Han är för det mesta glad men kan såklart bli lite sur när han ska sova och så.
Kan han gå?
Nej inte utan stöd av våra händer eller sin gåvagn! Balansen är inte riktigt där än. Han har precis börjat släppa och står utan att att hålla i sig, men bara i några sekunder sedan ramlar han ner på rumpan. Jag tror att han kommer ta sina första steg om kanske en månad, men vi får se!
Hur många tänder har han? Har han haft ont när de kommit ut?
Han har 6 st! Fyra uppe och två nere. Uppe har han en ordentlig glugg och det är så jävla gulligt. <3 Svårt att säga om han störts av tänderna, man vet ju aldrig om han sover dåligt/gnäller pga tänderna, pga fas, eller pga något annat. Det är ju alltid något som pågår haha. Men precis när de nya tänderna sprack igenom så kunde han vakna på natten, gråta och gnaga på handen så jag tror att han ändå haft lite ont!
Hur nattar ni honom? Sover han i egen säng?
Nikola var duktig på att somna själv fram till att han lärde sig sitta upp. Nu krävs det att vi "håller i" honom för annars vill han bara upp och krypa runt. Såhär ser kvällsrutinen ut: efter middagen badar vi ofta ihop och sedan borstar vi hans tänder. Sedan sitter vi och myser i ett nedsläckt vardagsrum en stund innan vi gör i ordning flaskan och går in till sovrummet. Aleks tar de flesta nattningarna så att jag kan jobba en stund men ibland vill jag göra det. Både jag och Aleks nattar iallafall honom i vår stora säng. Först får han krypa runt lite i sängen och sen lägger jag honom tätt intill mig så att han ligger med huvudet på min ena arm, börjar sjunga, och så får han flaskan. Han äter tills han är mätt, sedan puttar han ifrån sig den. Gnäller lite, vrider och vänder lite på sig, men somnar oftast rätt snabbt där i famnen. Precis innan han somnat in helt så lyfter jag över honom till hans säng samtidigt som jag fortsätter sjunga, och så står jag där ett tag och sjunger, med handen på honom. Sen försöker jag smyga ut så ljudlöst som möjligt och undvika att trampa ihjäl Mani där i mörkret. :-)) Han sover för det mesta i sin säng fram till att han vaknar till (brukar vara vid 2-3 tiden), då lyfter vi över honom till vår säng.
Hur leker du med honom hemma?
Väldigt olika, men oftast sitter vi på mattan och leker med hans leksaker, håller honom i händerna och går runt i lägenheten, tittar i köksskåpen och i spegeln, och egentligen bara väldigt simpla grejer. :-)
Vad är det roligaste med hans ålder just nu?
Att man får respons och typ kan….kommunicera med varandra? Även om det är så enkla grejer som att vi härmar varandra och skrattar åt varandra, eller att han säger mamma (jag dör lite varje gång han gör det) och kommer för att pussa (läs: bita) mig på munnen. Även om det blir tuffare för varje dag pga att han kräver mer stimulans och att man ständigt måste vakta honom så att han inte ramlar och slår sig, så blir det även roligare och roligare. <3
Vad är era planer för baby nr 2?
Den näst mest frågade frågan.. Som ni vet så har vi inte riktigt möjligheten att planera. Fick tillbaka min ägglossning/mens för 4 månader sedan men inget har hänt ännu. Vi har dock varit på koll hos vår IVF-klink (även om jag blev "spontant gravid" så känns det skönt att träffa vår läkare som vet om hela vår historia) för att kolla läget på äggstockarna osv. Kan berätta om det en annan gång.
// Now our boy is 9 months!! It feels like so much stuff has happened with his development the last month. It's like we left to the Maldives with a baby and came home with a toddler haha. He learned a lot over there! One thing was that he said his first word – MAMMA. <3 (mother in Swedish)
Nikola's 9 month update will be a q/a that I started on my insta story! I've collected the questions that was asked most frequently. :-)
What's his food & sleep schedule?
Like 80% of your questions were about this! So this is what a day look like (some of it depends on when he wakes up so I write "between"):
Around 5.00: Often wakes up and want food. I breastfeed on one boob and we fall back asleep quick.
Between 6-7: GOOD MORNING mom and dad! Now I want to get up! Aleks takes him. 
7.30: Aleks give him breakfast. A portion of porridge (he likes Sempers the most, with taste of pear), a little sandwich and some fruit (can be some pieces of banana, berries or a fruit puree)
Between 9-10: It's time for his first nap and I breastfeed him on my other boob right before. He mostly sleeps 2 naps during a day but sometimes 3, it depends on how long the naps are. If I lie next to him in the bed, or if we are out rolling the stroller, he can sleep 1,5-2 hours on his morning nap. Anyway in this schedule I assume that he sleeps 2 naps.
Between 12-13: Lunch! What he eats here depends on his mood. I almost always try to offer him something home-cooked, such as omelett/scrambled (egg, onion, tomato, cheese, parsley) with avocado on the side, banana pancakes (made with egg and banana) with berries, or last night's leftovers like fish, potato and broccoli. I give him this in pieces so that he can eat on his own too. But sometimes nothing is good enough except a meal squeezie (puree) from Alex & Phil, and most often I also have to complete with fruit & veggie puree as well.
Around 15.30: Here he most often get a bottle of formula (sometimes it's not needed because he has eaten a snack after lunch) and then it's time for his second nap! Here we are always out on a walk and he falls asleep in the stroller and sleeps around 40 minutes.
Around 17.30: Dinner! Just like lunch it depends on what he wants. Pieces of "normal food" (if we have cooked dinner for us we offer the same as we eat, for example he loves pasta bolognese, and salmon and potato is another big favorite) or if he wants baby food you buy in store. In both cases though we always boil peas or broccoli as well so that he can sit and pluck as well.
Around 19.00: Bed time! If he ate an early dinner (sometimes it is around 17) he might get some porridge before bedtime too. In bed he gets a bottle of formula/välling (half half, a total of 280 ml but rarely drinks it all) before he falls asleep.
What the night looks like is very different. We've had a couple of really good nights now since we lowered the temperature in our bedroom and bought an air humidifier, but it's too early to say if that's the cause. Anyway we're not feeding him more than once during night, it's usually some formula around 3 o'clock!
What words can he say?
Basically just "mamma" (mother). Sometimes it sounds like he says "nej" (no), "titta" (look) and "tata" (dad in Serbian) but mamma is the only word he says when you ask him to say it. He doesn't know what it means of course he is just imitating me. :-)
What is his size in clothes and shoes?
He has size 20 in shoes (we're not using shoes yet though) and size 80 in clothes but he can still have most of his clothes in 74. It feels like he is not growing as fast now because we don't have to clean out his wardrobe as often anymore and that is nice.
What is his personality like?
We have a very active and playful little guy here, which can be both fun and tough (especially in corona times when we are at home, I'm completely exhausted after a day with him). He is up moving constantly and he almost never sit still. Jumps, climbs, crawl around, walk around the furniture, clap his hands, screams and laughs. And I laugh too, because he can do such silly stuff sometimes. He has become a bit more attached to me lately (I suspect a little separation phase) and it's easier for me to comfort him if he falls and hits himself or wakes up in the night, but other than that he is happy with other people as well. He is very social and curious in other people and gets really happy when someone gives him attention. He charms everyone always. <3 He is mostly happy but of course he can get angry too when he is about to sleep etc. 
Can he walk?
Not without support from our hands or his walker wagon! His balance is not there yet. He has just started letting go and stand without support, but only for a few seconds then he falls down on his butt. I think he will take his first steps in maybe a month, but we will see!
How many teeth does he have? Has the teething bothered him?
He has 6! Four up and two down. He has a big gap between his upper teeth and that is so damn cute. <3 It's hard to say if it has bothered him, you never know if he sleeps bad/whines because of the teeth, because of a phase, or because of something else. It's always something going on haha. But when his new teeth came through, he could wake up in the night, cry and chew on his hand so I think he had a bit of pain!
How do you put him to sleep? Does he sleep in his own bed?
Nikola was good at falling asleep on his own until he learned how to sit up. Now we have to "hold" him other wise he just wants to get up and crawl around. Here's what our night routine looks like: after dinner we often bathe together and then we brush his teeth. Then we have a little cozy time in our living room (we make it darker) before we prepare his bottle and go to the bedroom. Aleks takes most of the nights so I can work a little but sometimes I want to do it. Both Aleks and I put him to sleep in our big bed. First he gets to crawl around a bit in bed and then I put him close to me so that he lie down with his head on my arm, I start singing, and then I give him the bottle. He eats until he is full, then he push the bottle away. Whine a bit, twist and turn a bit, but most often fall asleep pretty quick in my arms. Just before he falls asleep completely I lift him over to his bed while I continue to sing, then I stand there for a while and sing, holding my hand on him. Then I try to sneak out as quiet as possible and avoid stepping on Mani there in the dark. :-)) He most often sleep in his own bed until he wakes up (usually around 2-3), then we lift him over to our bed. 
How do you play with him at home?
Very different, but most often we sit on the mat and play with his toys, hold his hand and walk around in the apartment, look into the kitchen cabinets and in the mirror, and basically just very simple stuff. :-)
What is the most fun thing about his age now?
That we get a response and kinda….communicate with each other? Even though it's very simple as imitating each other and laugh at each other, or when he says mamma (I die a bit every time he does that) and comes to kiss (read: bite) me on my lips. Even though it gets tougher each day because he requires more stimulation and that we constantly need to watch over him so that he doesn't fall and hits his head, it also gets more and more fun. <3
What are your plans for baby number 2?
The second most frequently asked question. As you know we don't really have the ability to plan. I got my ovulation/period back 4 months ago but nothing has happened yet. We have been to a check-up at our IVF clinic though (even though I got "spontaneously pregnant" it feels good to meet our doctor who know our whole story) to see status on my ovaries etc. I can tell you more about that another time.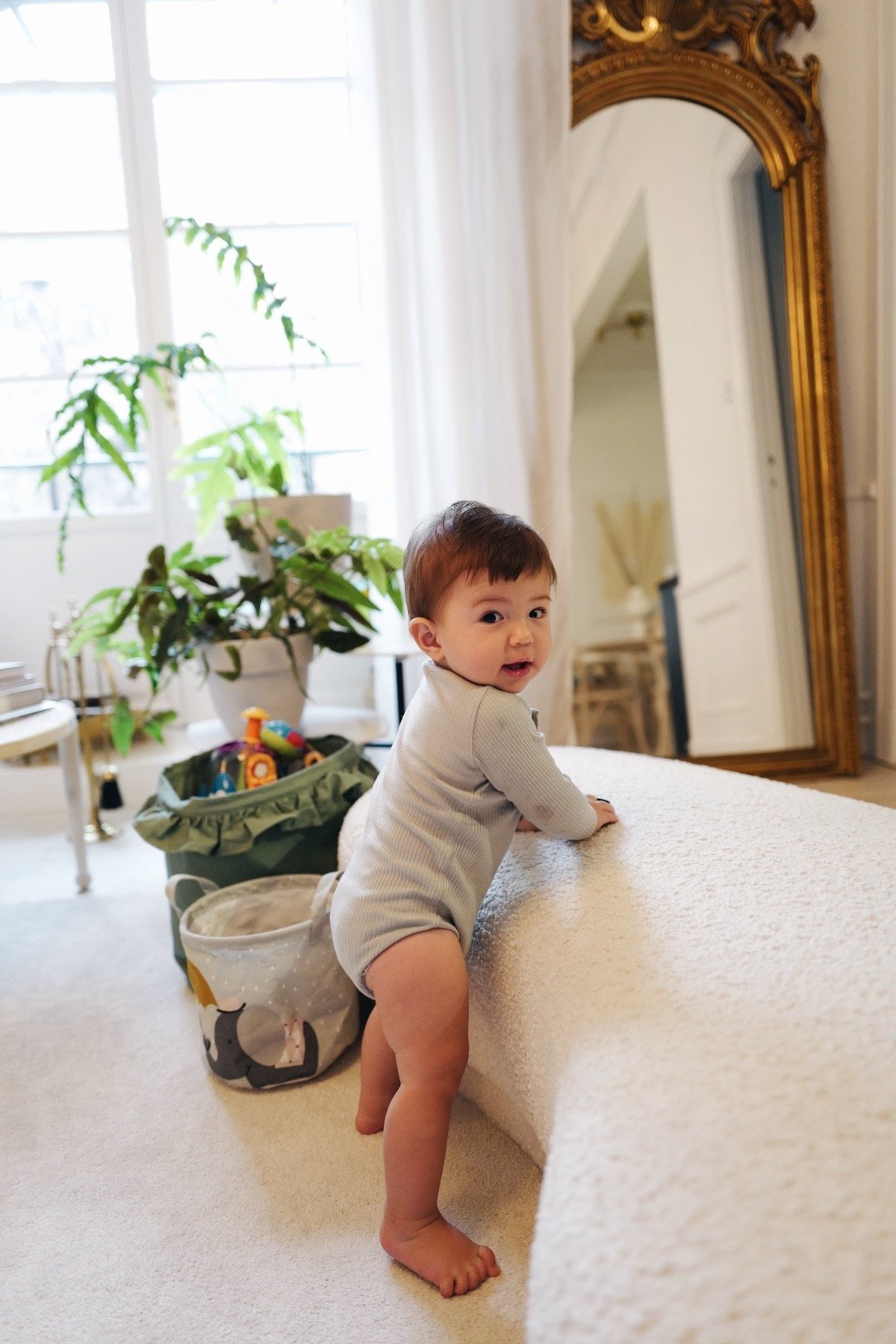 Mammas lilla hjärta <3